Frantone Glacier Hyper Modulator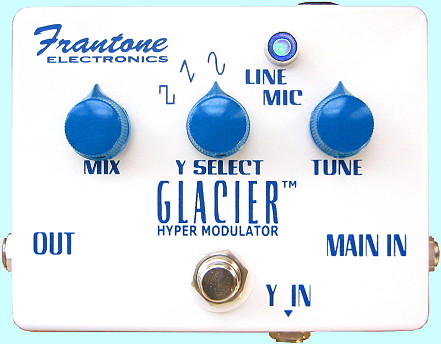 Infinite possibilities!
The Glacier is an effect unlike any other. It is small, quiet, and easy to use. The Glacier is ring modulator with selectable carrier that will absolutely spellbind you with its amazing tonal range and high fidelity. The Y SELECT switch lets you choose between one of the three waveforms generated by its internal oscillator, or an external signal source of mic or line level. The TUNE control adjusts the wide frequency range of the internal oscillator for the maximum amount of effect from steely highs to low vibrato. The Y IN gives you the ability to combine any two signals and create an unlimited number of sounds from triggered drum effects to vocally controlled guitar. The MIX control lets you blend in as much clean signal to the effect as you want. The stunning look of the Glacier is highlighted by its custom blue Bakelite knobs and cobalt blue status LED.

The Glacier is a pedal that truly must be heard to be believed!
All new Frantone effects come with full signal bypass and status light!
Each Glacier Hyper Modulator is hand-made in
the USA by Frantone and features:
Tough cast aluminum case

White enamel finish

True bypass switching

BLUE indicator LED

Steel LED bezel

Switchcraft jacks

Blue knobs

Hard mounted PCB

External power jack

24VDC adapter

Really cute clear feet
©1994-2016 Frantone Electronics All rights reserved.
All images and text are copyright Frantone Electronics. No content of this website may be published or distributed without prior written permission from Frantone Electronics and any reproduction or manipulation of the content of this website for any purpose is strictly prohibited.