The Sweet
Germanium Transistorized Fuzztone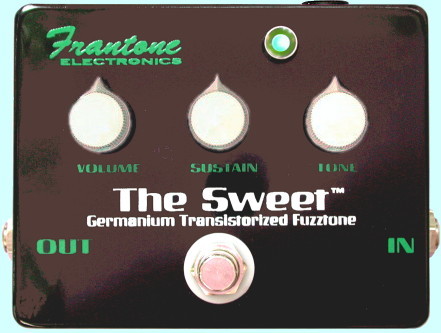 Truly insane fuzztone!
Over the top in every way using the classic tone of germanium transistors. This is the longest sustaining and smoothest sounding all-transistor fuzztone you will ever own. I have designed many fuzztones, including the 2000 New York City Big Muff for Electro-Harmonix, so believe me when I say that this is the most extreme one I have ever made. It's tone is indescribable. The full bottom and crisp highs will astound you, and the endless sustain will make you cry like a baby. But don't take my word for it.. try one for yourself!
All new Frantone effects come with full signal bypass and status light!
Each one of The Sweet fuzztones is hand-made in
the USA by Frantone and features:
Tough cast aluminum case

Black Enamel finish

True bypass switching

Green indicator LED

Steel LED bezel

Switchcraft jacks

White knobs

Hard mounted PCB

External power jack

Really cute clear feet
©1994-2016 Frantone Electronics All rights reserved.
All images and text are copyright Frantone Electronics. No content of this website may be published or distributed without prior written permission from Frantone Electronics and any reproduction or manipulation of the content of this website for any purpose is strictly prohibited.