Fran's Writings on Design and Engineering
Page 6
August 25, 2013
Luna 24
In this vlog I show an artifact in my collection that was flown
to the surface of the moon and returned... For real!
Ergonomic Pistol Grip for HD Video Camera
(May 2013)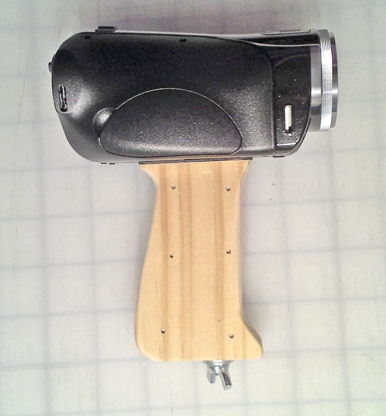 My new Panasonic 3-CCD HD camera is typical of consumer products today, in that it is designed around the technology, not the human body. I grew up in the 20th century, during the golden age of ergonomic design, when products were contoured to merge with the human body in natural ways. I compare my new Samsung smartphone to my 1960's era Bell desk phone and rest my case. In the 1960's the idea that someone would want to press a square, flat notepad up against the side of their head to make a phone call would have been utterly ridiculous - some kind of joke gadget for Get Smart. But today products are often designed solely around their technology - not to fit the human being. These days it is up to the human to conform to the rules of the technology that they must command - it is an odd and backward logic that younger people seem much more complacent with, but not me. I am a crotchety old fart.... and I want my HD camera to be ergonomically designed - so I set out to make a pistol grip for the camera, reminiscent of my favorite late 60's Super 8 movie cameras.
I decided that the easiest way to put this together was to laminate three pieces of planed pine together with an opening in it for a bolt that would go up through the handle to secure the grip to the threaded camera mount. I drafted a template and used carbon paper to transfer the design to a length of 7/16" thick pine trim molding and cut out each piece by hand with a jigsaw. I glued and clamped the layers together, and after setting I placed some wire brads in the grip to provide additional reinforcement. When it was dried I formed and contoured the grip by filing and sanding it into shape to fit my hand.
I made the custom fit mounting screw by cutting a length of ¼-20 threaded steel rod and epoxy gluing a wing nut to one end that I would use to secure the grip to the camera with no tools needed.

Lastly, I glued a piece of neoprene sheeting on the top of the grip and punched an undersized hole in it for the threaded rod to go through. The neoprene provides a pad for the camera mount, while the tight fit around the threaded rod holds the mounting screw to keep it from falling out when it is not mounted on the camera.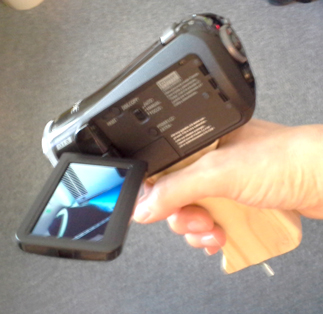 Done! Finally -
a well balanced camera that is now a pleasure to use!
Fran Fixes It: Vintage Shop Dehumidifier Repair
(May 2013)

Okay back to my messy shop fixing broken stuff - Here is my 80's vintage dehumidifier-turned-ice-maker that I decided to repair rather than throw out. A messy job, but interesting enough to make a video about. Welcome to my world of stuff that doesn't quite work right, made better. After all, why throw it out when you can fix it? Enjoy!
A look inside my AMI R-88 Jukebox!
I restored this jukebox in December 2000 for the original Frantone Factory
in Williamsburg, Brooklyn.
Upgrading the Polaroid 330 Land Camera
(April 2013)

I have been a photographer since my teens, and about two-thirds of my time capturing images was spent in the photo-chemical era. I have had several dark rooms over the years and worked in several formats, including motion pictures. But these days digital is the normal reality and photo-chemical anything is an oddity or a mere curiosity. But one thing still remains of that era in my own life - the Polaroid Land Camera.

For any photographer the Land Cameras are legendary, and despite some trying times for this positive print format the film stock remains in production by several companies, the most popular being Fuji's FP-100 series. The 100 speed film is the best for resolution, but it does require a fill flash to be practical for most situations. The preferred Land Cameras are the 180 series with fully manual exposure, but those cameras are now quite rare and expensive. I snatched up a very affordable new old stock 330 with the electronic eye and set out to make it as versatile as possible with the addition of a hot shoe for a flash.
| | |
| --- | --- |
| I made a rough drawing for the bracket that I would construct for the flash, which would mount with two small screws to the side of the camera next to the battery compartment. I fabricated the bracket out of one piece of 1/8" thick aluminum, which I machined and bent according to the drawing. | |

The 330 series cameras have a PC style sync flash socket mounted on the side of the lens assembly. I got a corded hot shoe mount with a 1/4-20 threaded base that had a male end PC adapter and broke it open so that I could shorten the cable to the correct length.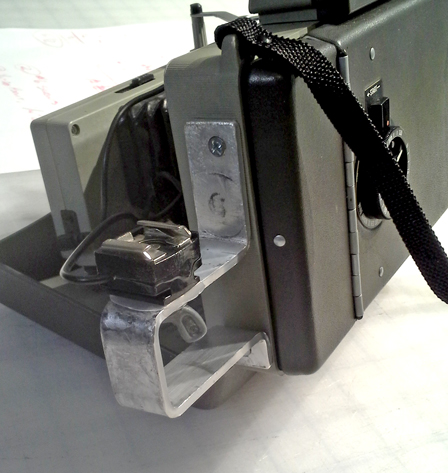 The mounting bracket I made has a recess in it for a 1/4-20 wing head screw so that the angle of the flash can be adjusted for close shots.

The completed flash assembly.


The last problem to solve was the battery. The original 3v cell that the Polaroid used for the electronic exposure control was basically two AA cells in one special battery, and two plastic plates connected the wiring to the battery by clip terminals similar to what a modern 9v battery uses. The best modern substitute is a single CR-123A lithium battery which I fitted by making a band out of regular fabric elastic that would hold the battery contact plates to the end terminals of the battery. Snap the battery in the holder, and presto! All ready to shoot.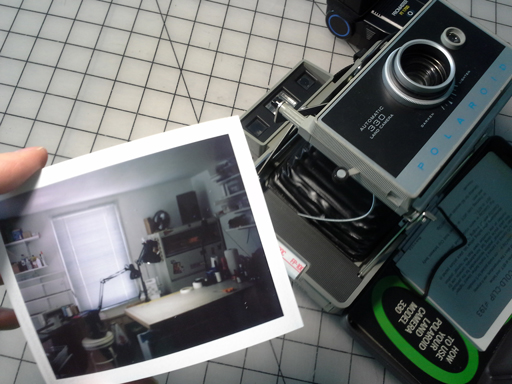 I love a real one-of-a-kind photograph!
Return to the Design Writings Main Menu Page
Frantone Home || About Frantone || Contact || Fransworld Daily Updates
©1994-2015 Frantone Electronics All rights reserved.
All images and text are copyright Frantone Electronics. No content of this website may be published or distributed without prior written permission from Frantone Electronics and any reproduction or manipulation of the content of this website for any purpose is strictly prohibited.